It's all about the little things.
[This video was first sent to the inboxes of supporting subscribers of Documentally.net That's where I post most of my content. Click the link and subscribe for more words, pictures, video and a podcast.]
I'd like to say it was obvious that the company that brought you top studio microphones, booms and recording gear would of course be bringing out some headphones. But I didn't see it coming.
On reflection it's a no brainer.
Imagine all those happy new users of the Rodecaster Pro, and soon the Rodecaster Pro II who'd love to have Rode bundle them both four mics AND headphones for their new portable studio. And why not?
The RØDE NTH 100 are one hell of a 'first go' at headphones and the build quality and features make them very hard to beat at this price point.
As mentioned in the video, RØDE kindly sent me these headphones to review. I have never taken their money but I'm more than happy to put their tech through their paces. I trust them. None of the RØDE gear I have ever bought, borrowed or been given has let me down or stopped working. I'm hoping to see the same quality in these headphones.
I've listed my thoughts plus pros and cons in the video above but here are some features in more detail:
Contoured earcups that follow the shape of the ear with memory foam cushions for noise isolation
Removable cable with locking connector that can be connected to either ear cup
Custom-matched drivers deliver an accurate flat frequency response, perfect for monitoring and mixing
Precision-engineered acoustic construction
Comfortable, replaceable Alcantara earcup and headband cushions
CoolTech gel keeps the headphones cooler and comfortable for longer.
Fully adjustable headband with a neat locking system
I can't overstate the comfort. I know headphone fit is a personal thing but when sat at my desk I've hardly taken them off. Other headphones might create a pressure point or make my ears hot. Not these. Let's see if that's still the case when summer really kicks in.
It's this and other features that has me wishing they'd made these headphones more portable. I tend to travel quite light and will often choose a lesser spec'd piece of tech if it's smaller and more portable. That's not to say that people won't travel with them. The first time I saw these headphones in the wild was Heathrow airport. Mine had been delivered as I left for the plane and felt too big for me to take on my motorbike adventures. Besides I wasn't planning on doing any studio work or editing. But thankfully the guy who was sporting them let me compare them to other headphones on sale in duty free. Despite the not very scientific environment, that was quite an eye opener. The NTH 100's sounded better than more expensive headphones.
But remember they are designed for the studio. If you like to travel super light and enjoy your adaptive noise cancelling then perhaps stick with your AirPods etc.
In regards to spec:
Transducer Size – 40mm | Operating Principle – Dynamic | Frequency Response – 5Hz – 35Khz | Impedance – 32Ω | Sensitivity – 110dB/V | Maximum Input Power – 1700mW, 1% THD @ 1kHz | Ear Coupling – Circumaural | Ambient Noise Attenuation – 20dBA | Connection Type – Dual TRRS Cable Attachments | Weight – 350g | Cable Length – 2.4m
And here they are alongside the Apple AirPods Pro.
As you can tell from the video up top, there is not much I don't like. I do wish it had shipped with a shorter cable. It comes with the 2.4m but I think the 1.2m would be the most used length for the average user. Of course if they sent out the short cable on its own everyone would complain. So sending both in the box would be best for the customer, if not for the bottom line. 😉
I'll let you know how they work out long term and if you're keen to try them out let me know. If we are likely to be in the same physical space I'll bring them along. I often share where I'm going to be in the weekly email dispatch. As I said above, headphone fit is quite personal and it's great to get the chance to try before you buy.
So there you have it. It's the little things, the side swappable cable, the click-to-adjust headband, the weird magical gel… the features.
RØDE are continuously shaking up the world of sound production. Back in the early 2000's our bedroom recording studios cost a damn sight more than what's available now. We would attempt to cobble whatever second hand gear we could get together, or just say sod-it and hire a studio.
They are rapidly becoming the one brand that does it all. And it's pro quality gear.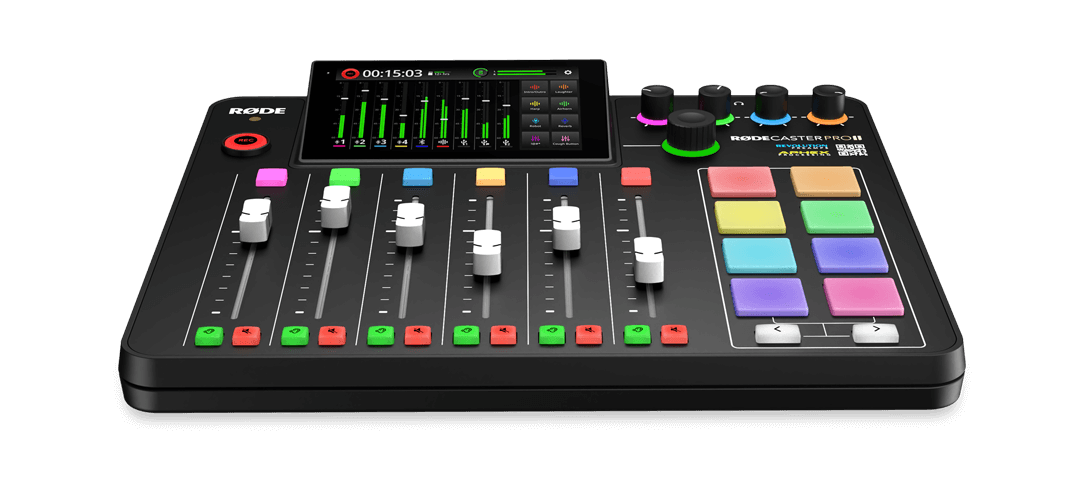 Now we are all happier to hang out in the same physical space I'd be keen to also try their new Roadcaster Pro II. Especially as it can now be powered by USB PD out of the box. Version one needed an adapter. Perhaps we can get together for some group podcasts or if you ever attend one of my audio focused workshops we can take a look at it there.
Till then, thanks for watching/reading.
The video above was first shared with supporting subscribers of my email. Thank you so much for your support.
If you would like to see more reviews let me know in the comments. If there is anything from RØDE you would like to know more about, it might be I've already tested and reviewed it on my YouTube channel.
You can find more info on the headphones on RØDE's official site.
Cheers,
Christian
aka @Documentally