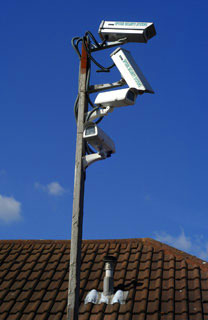 The Government needs YOU to start blogging now!
Think about it. At this moment in time, those that run society have a few tools at their disposal to monitor the populous. Whether it be RFiD chips, CCTV, or Menwith hill and it's technological wonders. The private life of the individual is secretly captured, mapped, collected, and owned in effigy by a mass of private business operations—. The security industry.
All these methods of collection require continued research and development, massive corporate and private funding and thousands of members of staff.
Wouldn't it be cheaper and easier for all if we publicly told the world exactly what we thought? What if we revealed our innermost fears and dreams in an attractive, easy to read, easily up-datable format?
Wouldn't this serve the government information gatherers just perfectly? All that time and energy saved.
Straight away, the chit chat from teenagers discussing what kind of tattoo/piercing/hair colour they are sporting this week can be filtered from the educated informed and ever so slightly angst ridden masses.
The technology is already in use to read every electronic transmission on the planet, it looks for keywords so the email or blog can be filed and read at a later date. But what the Blog really achieves is the effect it has on making people who really feel like they have an axe to grind, blab their innermost secrets to the world.
No more private conversations. Everything out in the public domain. The diary of a sociopath left open for all to see.
So now, thanks to the blog and all the loyal bloggers out there, the trouble causers and potential revolutionaries can be rounded up. In data bundles at first, name lists and hard drives crammed with tales of people, peoples tales and their anti social thoughts.
Then, in a more physical fashion as groups of people are isolated until they are brought into line.
Think about this next time you are posting your deepest darkest thoughts. Think about it but don't necessarily let it stop you.